Attention! You won't be able to withdraw PF money this way anymore
New Delhi: Employee Provident Fund Scheme commonly known as EPF or PF is a long term savings scheme where the employees contribute 12 per cent of their basic pay every month. A matching amount is contributed by the employer. The contribution, together, form a corpus. This is given to the employee at the time of the employee's retirement.
Partial EPF withdrawal by employees can, however, be done during the course of their employment. As per rules, an employee can withdraw from PF when they retire or when an individual remains unemployed for a period of 2 months or more. Partial withdrawal is allowed for marriage (self, son/daughter, brother/sister), education (self, children), Purchase of land or construction of a house, home loan repayment, renovation of a house and a little prior to retirement.
As per a report, if your Aadhaar number is linked to the EPFO's Universal Account Number (UAN), you will not be able to get your PF withdrawal claim offline. The Employees Provident Fund Organization (EPFO) has refused to accept the offline claim of people whose Aadhaar is linked to UAN. Regional Commissioner NK Singh was cited in the report saying that EPFO has taken this decision because of rising cases of offline claims.
EPFO has reportedly issued a circular regarding this since many companies were getting bulk offline claims from members whose Aadhaar is linked to the UAN. Since these cases were burdening the field office, as well as, causing a delay in claim settlement, the circular directed not to accept such offline claims. The companies have been advised to use the online claim service platform.
The EPFO circular stated that if a member files a claim both online and offline, only the online claim will be accepted and settled.
If you are planning to file a claim, here how you can do it online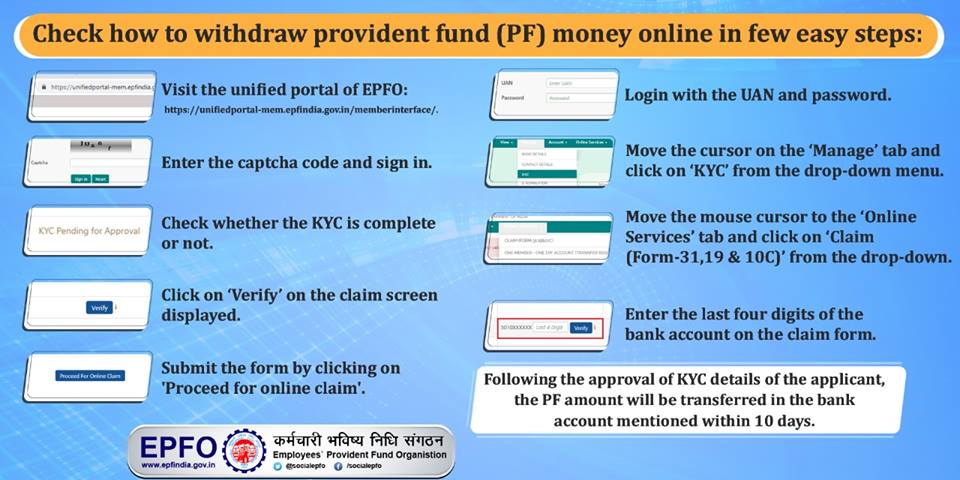 Step 1. To submit EPF withdrawal online claim, visit the EPFO unified portal.
Step 2. Log in with the UAN and password.
Step 3. Enter the Captcha code and sign in.
Step 4. Locate the 'Manage' tab and click on 'KYC' from the drop-down menu.
Step 5. Check whether the KYC is complete.
Step 6. Locate the 'Online Services' tab and click on 'Claim [Form-31,19&10C]' from the drop-down menu.
Step 7. Click on 'Verify' on the claim screen displayed.
Step 8. Enter the last four digits of the bank account on the claim form.
Step 9. Submit the form by clicking on 'Proceed for online claim'.
It is to be noted that following the approval of KYC details of the applicant, the PF amount will be transferred in the bank account mentioned within 10 days.
It is worth mentioning that EPFO last year made it mandatory to file online claims for provident fund withdrawals above Rs 10 lakh, taking another step towards to become a paperless organisation. The EPFO has also made it mandatory to file online claims for withdrawals of above Rs 5 lakh under the Employees Pension Scheme 1995. At present, EPFO subscribers have the option of filing online as well as manual claims for provident fund withdrawal as also for the pension.
Source:- timesnownews
Share: